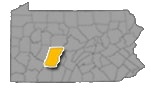 For those who like to visit architectural marvels, The Johnstown Inclined Plane will not disappoint! The Johnstown Inclined Plane is the steepest vehicular incline in the world. During Johnstown's floods in 1936 and 1977, the Incline became a lifesaver, helping people to escape the floodwaters downtown as well as to transport supplies into the valley. Many visitors come to hunt, fish, camp, swim and hike in the scenic and tranquil Prince Gallitzin and Laurel Ridge State Parks, as well. Cambria County is home to some of the most beautiful forestland around, providing habitation for many types of local plant and animal life.
Lastly, Cambria County celebrates a diverse population of hard-working residents. The blue-collar immigrants of the late 1800's brought their families and modest belongings to Cambria County to start anew in the United States, thus helping to start the "steel boom" in the Johnstown area and the industrial age of America. Many of these immigrants and their family traditions can be observed, today, in the annual festival celebrations and historic museums around the county. *Visit the Arts and Culture page for additional information.
Tourism now contributes more than $281 million to the region each year. Cambria County is abundant in "things to do" with numerous historic attractions, museums, festivals and outdoor activities for both the young and young at heart.
For the historians and those interested in Cambria County's beginnings, the Allegheny Portage Railroad provides an unique look into early transportation and celebrates the first direct route between Pittsburgh and Philadelphia. The railroad served merchants, passengers, slaves in pursuit of freedom and soldiers from the Mexican War.
The Lt. Col. "Buzz" Wagner CHAPTER 221 AIR FORCE ASSOCIATION is presently working to erect a memorial for a native, fallen hero of WWII. The Cambria County Airport will be receiving a replica of Lt Col. Wagner's P-40 Warhawk for visitors to view up close. There's much to learn and see about our Cambria County flying ace! Stay tuned for more information…
The Johnstown Flood Museum provides captivating pictures and relics which take its visitors back to the 1880's era and "The Great Flood." Visitors can recall the once thriving steel city which was unexpectantly washed away with 2,209 souls on a fateful May 31st, 1889. More floods would ravish the city and landscape, thus giving Johnstown the infamous name "The Flood City."